​Victor joined CRU Consulting in 2022. Victor has over 14 years' experience in corporate finance and investment banking roles relating to the natural resources sector with a specific focus on metals and mining.

Prior to joining CRU, Victor worked as Investment and Financing Director for Cedar Holdings (a leading Chinese commodity trader), where he was responsible for the company's overseas acquisition and financing activities. He also worked for Sunshine Kaidi New Energy (a Chinese renewable company) in a similar capacity.

Victor also worked for over a decade as an investment banker in the natural resources team at several major banks including Deutsche Bank, HSBC and BNP Paribas, where he led numerous cross-border M&A and financing transactions.

Victor graduated from Cornell University in 2007 with a BSc in Material Science and Engineering. He is a Chartered Financial Analyst and is fluent in Chinese (Cantonese and Mandarin).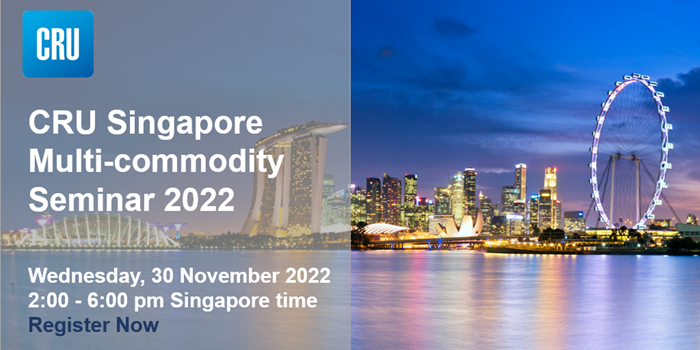 CRU Singapore Multi-commodity Seminar 2022
CRU is Back! After a three year hiatus the CRU Multi-commodity Seminar returns in style with an in-person event in Singapore. This world renown event brings together...