We are operating in a world of:
Unexpected policy changes and regional differences
Rapid technology evolution and associated investment risks
Geopolitical upheaval and rearranging supply chains
Social pressures
High value decisions are having to be made and obtaining robust support through data, insight and advice differentiates the winners.
Facing a changing technology, economic and materials landscape, there is a limited supply of industry-verified and accepted data and analysis. Methodologies need to be explicit and complex data needs to travel between an increasing number of players in evolving supply chains.
Producers, processors, consumers, governments, financial institutions and industry associations are all working with CRU and benefiting from our global reach and 50 years of experience in advising materials industries.
Explore this topic with CRU
You can access our Battery Materials expertise in a way to suit you with market experts in all the key regions:
Analysis
Analysis and forecasts of supply, demand, prices and costs; Asset-level coverage;
End-use demand modelling; In-house price assessments;
Economic outlooks; Detailed industry cost models;
Comprehensive analysis of the lithium, cobalt, nickel and lead markets
Sustainability
Emissions and Cost Analysis tools; Carbon flow analysis; Carbon price forecasts
Consulting
Bespoke advice; Scenarios; Financing & hedging support
Events
Industry conferences; Networking; Bespoke industry training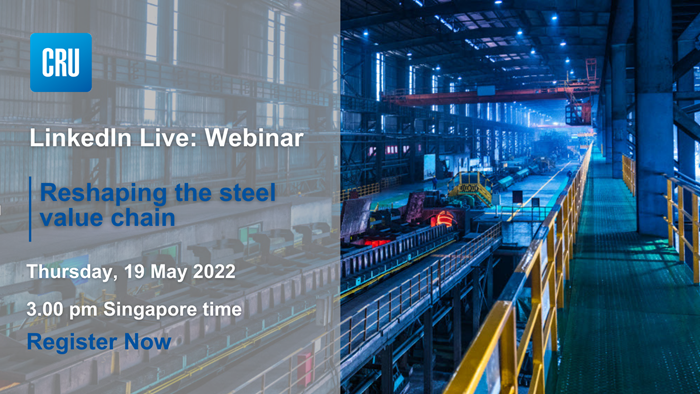 Reshaping the steel value chain
CRU will host a LinkedIn Live Webinar "Reshaping the steel value chain" on 3pm Singapore time,19 May 2022. CRU is now a Media Partner of Singapore International Ferrous...
CRU Battery Materials Team
We provide more services...